MIL-HDBK-61A: Configuration Status Accounting (CSA)
< Previous | Contents | Next >
7.3 Configuration Status Accounting Activity
Table 7-2 provides an activity guide for the evaluation of a configuration status accounting process.
Table 7-3 is an activity guide designed to in clearly establishing the separate but interrelated domains of the contractor's status accounting process and the Government's status accounting process since each configuration status accounting task may be assigned to either the Government or a contractor. These guides, keyed to each of the tasks listed in Figure 7-1, provide:
Inputs and outputs types (categorized by the generic input and outputs shown in Figure 7-1)

Correlation to the EIA-836 Business Objects (To be added)

The life cycle phases during which the information is typically needed.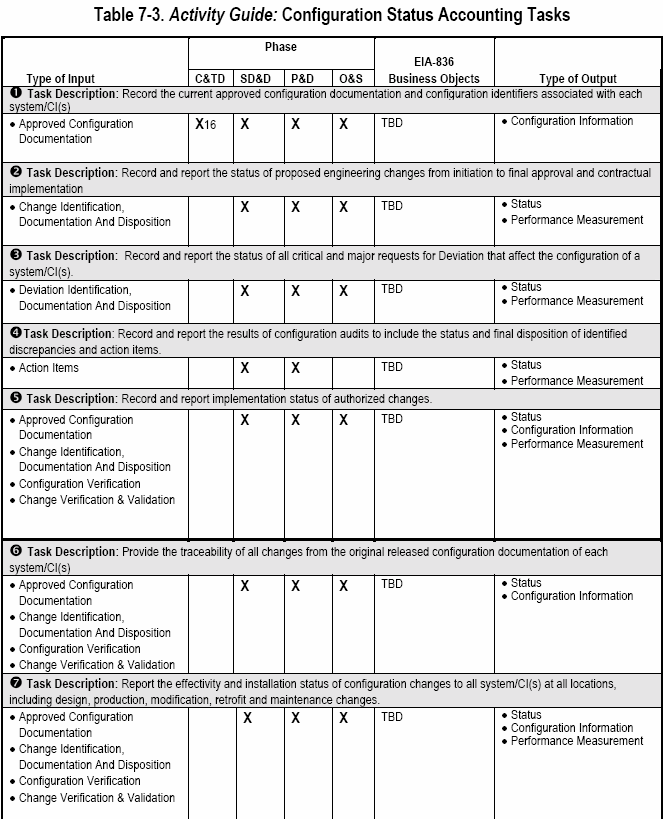 16 Or other documentation informally controlled during this phase
17 Or other documentation informally controlled during this phase
For correct application of this information, see NOTE on Contents page